India is a land of gamers. You wouldn't believe the number of gaming communities that exist in India, and the variety of indie games being developed. Shooting games are one such interesting segment with many players across all age groups. From Candy Crush to PlayerUnknown's Battlegrounds, Indians have taken a liking to shooting games. But does this mean we won't see any innovation? Of course not! The latest Indian-made shooting game Blaster Blade has some unique features that will blow your mind away. Read on to explore more about this game.
What is Blaster Blade? Blaster Blade is the latest shooting game by Lufick. This game launched 3 months back and is available on Android and iOS platforms. Although Blaster Blade is primarily a shooting game, it also has some role-playing elements. The game is set outside of the planet, and the player will be in the role of a shooter who will be tasked with fighting Aliens. The player will have to face challenges & provided awesome characters. The game promises to be a visually stunning experience with stunning graphics, great animations, and a cinematic soundtrack. Blaster Blade is an engaging and immersive experience. It is a game that will appeal to both casual gamers and hardcore gamers alike, thanks to its engaging gameplay and interesting features. The makers of Blaster Blade have taken care to ensure that the game is not a short-lived experience; instead, it should be something that players will want to come back to again and again.
The game offers a unique mix of shooting and role-playing elements in an Outside world. In contrast to most Indian shooting games, this game is infused with elements of fantasy and sci-fi. The game launched 3 months back for Android and iOS users.
Features of Blaster Blade
Single-player campaign — The game will have a single-player campaign, The player will be given the role of a Fighter who will be tasked with fighting with Aliens and saving the world. The game will have a storyline, and the game will have multiple Enemies as well as Boss Enemies. Blaster Blade also has some RPG elements, which means the player will be able to upgrade his/her weapons and gear. Blaster Blade has stunning visuals, which will make the game look like a cinematic experience. The game promises to have realistic graphics, stunning animations, and a cinematic soundtrack.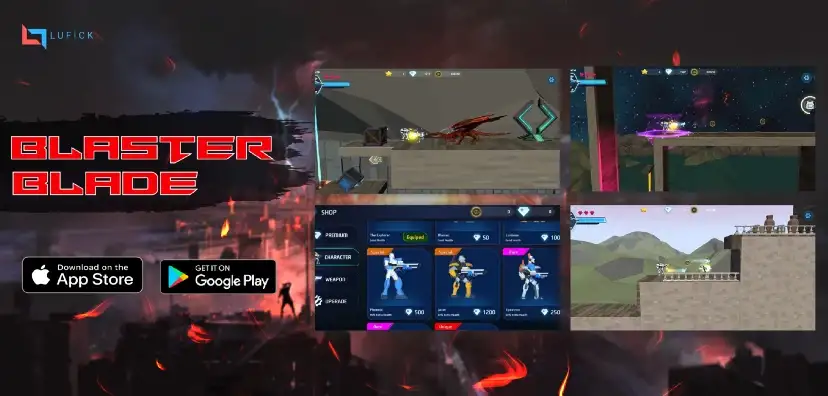 Who's behind this epic shooting game?
Blaster Blade is the latest game by Lufick, an Indian-origin company based in Gurugram, Haryana. The company has a rich portfolio of Apps, and Blaster Blade is its latest upcoming release. Lufick Also has some top-rated applications with millions of downloads on the Play store and Apple store. So, What are you waiting for, play the game today and comment down below how much you enjoyed playing the game.
Here's the link to the game-
PlayStore- https://play.google.com/store/apps/details?id=com.lufick.blasterblade
Apple Store- https://apps.apple.com/us/app/blaster-blade-war-of-galaxy/id6443490139